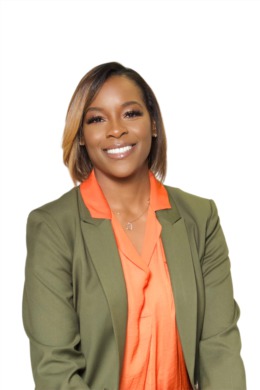 Alicia Adams is a seasoned Real Estate Agent with a remarkable journey that spans over a decade. Since 2007, Alicia has been making waves in the real estate industry, helping clients find their dream homes and investment properties. With her unwavering dedication and extensive knowledge, she has earned a reputation as a trusted professional who goes above and beyond for her clients.
Alicia's journey in the world of business started even before her career in real estate. Her background in mortgage loan processing and underwriting, spanning 4 years, equipped her with a comprehensive understanding of the financial intricacies that play a crucial role in the real estate landscape. With 5 years of B2B sales experience under her belt, she honed her skills in building strong relationships and delivering exceptional service.
Dedicated to personal growth and education, Alicia holds a Bachelor of Science in Criminal Justice Administration with a concentration in Management. This academic achievement reflects her commitment to continuous learning and a well-rounded approach to her career.
Beyond her professional accomplishments, Alicia finds joy in various aspects of life. An avid traveler, she explores new destinations to enrich her perspectives and embrace diverse cultures. Her love for reading fuels her intellectual curiosity, allowing her to stay well-informed and open to new ideas.
While achieving success in her professional pursuits, Alicia keeps family at the heart of everything she does. With two adult children aged 25 and 23, she understands the importance of balancing her career with quality time spent with loved ones. Her journey as a companion began in 2016, reflecting her dedication to nurturing meaningful relationships.
Alicia's entrepreneurial spirit shines through her ventures. As a Notary Public, she provides essential services to her community, emphasizing her commitment to making a positive impact. Her role as an Independent Travel Agent showcases her ability to turn her passions into successful business endeavors, offering others the opportunity to create cherished memories through travel.
In her role as a Serial Entrepreneur, Alicia demonstrates her versatility and resilience. She fearlessly ventures into various business opportunities; each reflecting her drive to innovate and create value.
Alicia Adams' biography is a testament to her remarkable journey, marked by dedication, entrepreneurship, and a commitment to personal and professional growth. With each accomplishment, she continues to inspire others to pursue their dreams and embrace the endless possibilities that life has to offer.